Any information you may need, please contact us using the contact information below. Alterantively, you can send us your inquiries by submiting the contact form in this page. We'll get back to you as soon as possible.


Ambient Villa
9, Griviţei St., Cristian, Braşov, România, 507055
Telephone
004-0771-715020
Fax
004-0268-547191
E-mail
villa@ambienthotels.ro
Company data
SC Euro Tour SRL
Fiscal Identity Code: RO 11371616
Registration Number: J08/28/1999

Headquarters Address: 5 Aninoasa St., Braşov, România, 500085

Iban RON Account: RO60BACX0000003009655000
Iban Euro Account: RO06BACX0000003009655002
Unicredit Ţiriac Bank Braşov, Swift: BACXROBU

office@ambienthotels.ro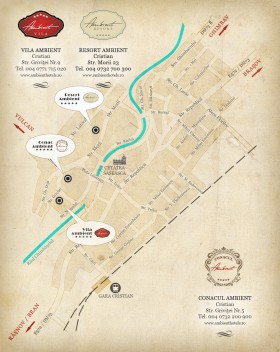 Click on map to see larger size in a separate window.
Click here in order to find us via Google Maps.

Please fill in the form below in order to get in touch with us. You will be provided with a reply in maximum 24 hours.

If you are plannig to take a trip to Braşov and you are searching for first class accomodatation, we are looking forward to having you as our guest at our other residences located in the centre of the big city of Braşov.

Hotel Ambient ****

The ideal location, exclusive ambiance and welcoming staff. A place created with heart, so that you, our guest, can spend wonderful days in the exclusive comfort of our 4 star hotel and in the fresh air of a breathtaking Romanian city, Braşov.
Visit us on the web at: www.hotelambient.ro.


Ambient Guesthouse ***

This 3 star bed & breakfast guesthouse is a wonderful blend of comfortable furnishing, modern amenities and warm ambiance which will enchant your heart the minute you walk in.
Visit us on the web at: www.pensiuneambient.ro.


Ambient Residence ***

With an old scent of medieval architectural and interior design elements, pleasantly combined with a touch of modern style, Ambient Residence offers everything you need for a comfortable stay in Braşov: central location, 3 star services and facilities at hand and safety.
Visit us on the web at: www.residenceambient.ro.


Ambient Mansion *****

A sudden feeling that the past and present have made acquaintance and are having a lovely chat around you? Well, it means you have finally reached your destination, the Ambient Mansion. This is a luxurious new property, situated in the old town of Cristian ( 9 km from Brasov ), a property that succeeds in creating a timeless love affair between the Past (with the old Saxon architectural elements) and the Present (with a complete five-star facility package).
Visit us at: www.conaculambient.ro.


Resort Ambient *****

You're here. Finally. Now open the gates and breathe. Feel the soft breeze of a long-gone Yesterday and the fresh scents of Today. The big day is Now. And we write it for you. In capital letters, adorned with care and love for detail. "Once upon a time there was….", that is how your story goes. Ours is about making your day thrive into "forever". So, welcome to Ambient, the Events Center ! We are your Now and Forever !
Visit us at: www.resortambient.ro.